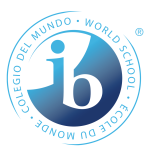 International Baccalaureate
Dr. Nermien Ismail School (1st Sett campus) has acquired the authorization by the International Baccalaureate Organization® to offer the full Diploma Programme (IBDP).
Our Grade 11 students, along with an experienced and qualified team of educators and administrators, look forward to an exciting and challenging 2018-2019 academic year, at NIS.
The International Baccalaureate® (IB) Programmes aims to do more than other curricula by developing inquiring, knowledgeable and caring young people who are intrinsically motivated to succeed.
More than 4,500 schools have chosen to offer the International Baccalaureate® (IB) Programmes, with their unique academic rigor and their emphasis on the personal development of students.
A combined 70,000 educators join together to teach and guide over one million students, worldwide. Today, NIS is proudly counted among those educators and students.